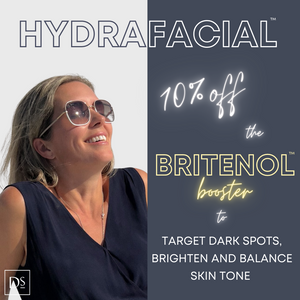 HydraFacial Platinum Experience
---
Overview: Introducing the zenith of skin refinement – the HydraFacial Platinum Experience. This unparalleled treatment combines the foundational excellence of our vortex-fusion technology with a suite of elite serums and boosters. Designed for the aficionado who seeks nothing but the pinnacle of rejuvenation.
Key Features:
Pristine Deep Cleanse & Exfoliation: Dive deeper into skin wellness with an intensive exfoliation process, offering a polished, renewed complexion beneath.

Precision Extraction & Ultimate Hydration: Experience a meticulous impurity removal, seamlessly paired with a symphony of the most luxurious serums. Every drop is a promise of opulence.

Radiance Amplification: Elevate your glow with an infusion of the highest-grade antioxidants, peptides, and hyaluronic acid. Our platinum blend is the epitome of skin illumination and vitality.

Tailored Boosters: Customized to your unique skin needs, our array of specialized boosters ensure your individual skin concerns are addressed with precision.

Extended Luxury Treatment: The Platinum Experience is our most extended treatment, ensuring a comprehensive indulgence for every pore, every curve.
Benefits:
Intensively targets even the most stubborn lines and wrinkles.
Augments skin's natural resilience and health to its peak potential.
Delivers an unprecedented luminous skin tone.
Profoundly minimizes the appearance of pores and combats acne with utmost efficacy.
A transcendent experience that is both deeply soothing and invigorating.
How to Use:
For those who demand the best, treat yourself to the HydraFacial Platinum Experience every 3-4 weeks. Each session is a 60-75 minute journey of unparalleled skin luxury and rejuvenation.
Sustainability:
Our pledge to the planet remains steadfast. The HydraFacial Platinum Experience champions the use of recyclable cartridges. Our premium serums are conscientiously crafted, cruelty-free, paraben-free, and devoid of any detrimental chemicals.
What's it going to do for me? 
Beyond a treatment, the HydraFacial Platinum Experience is a commitment—a vow to your skin's unparalleled health and radiant future.
Add the Britenol® booster to target dark spots, brighten and balance skin tone !
---