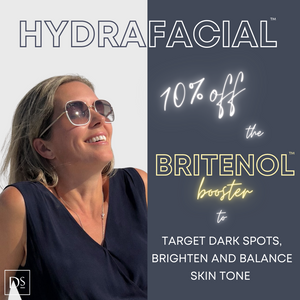 HydraFacial Premiere Experience
---
Overview: Elevate your skincare routine to unmatched heights with the HydraFacial Premiere Experience. Merging the best of vortex-fusion technology with enhanced serums and boosters, this deluxe treatment is designed for those who seek unparalleled radiance and rejuvenation.
Key Features:
Superior Deep Cleanse & Exfoliation: Experience a profound exfoliation that goes beyond the surface, whisking away dead skin cells and revealing the freshest layer of your complexion.

Advanced Extraction & Luxurious Hydration: Benefit from an even more efficient impurity removal process, paired with an elite infusion of rich, moisturizing serums. Your skin will drink in the nourishment.

Intensive Brightening & Firming: Loaded with a high-concentration of antioxidants, peptides, and hyaluronic acid, our premiere blend doesn't just brighten – it revitalizes, offering a firmer, more youthful appearance.

Extended Treatment Duration: The Premiere Experience lasts longer than our signature option, ensuring every pore is pampered and every inch of your skin feels the luxury.

For the Discriminating Skincare Enthusiast: Specifically crafted for those who prioritize their skin's health and appearance. Suitable for all skin types and tailored to individual needs.
Benefits:
Targets and diminishes deeper lines and wrinkles.
Amplifies skin resilience and overall health.
Promotes an even, vibrant skin tone.
Reduces appearance of enlarged pores and combats acne more effectively.
Luxurious, soothing, and deeply refreshing experience.
How to Use:
For utmost results, we recommend indulging in the HydraFacial Premiere Experience every 3-5 weeks. Each session lasts approximately 45minutes, a well-deserved moment of self-care amidst the hustle and bustle.
What's it going to do for me? 
Step into a realm of skincare that promises not just results, but a transformation. The Hydrafacial Premiere is more than a treatment—it's a testament to your dedication to self-care and skin health.
Add the Britenol® Booster to target dark spots, to brighten and balance skin tone. 
---