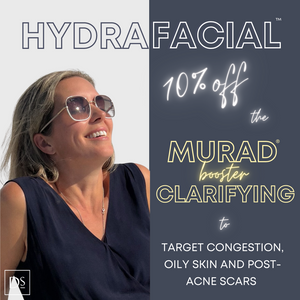 HydraFacial Signature Experience
---
Overview: Step into a new era of skincare with the HydraFacial Signature Experience! Harnessing the power of innovative vortex technology, this treatment promises not only a deep cleanse but rejuvenation that leaves your skin glowing, hydrated, and enriched.
Key Features:
Deep Cleanse & Exfoliation: The HydraFacial signature treatment gently exfoliates the top layer of your skin to remove dead cells, revealing a fresher, younger-looking complexion underneath.

Extraction & Hydration: Using painless suction, it efficiently removes impurities from the pores, while simultaneously infusing your skin with moisturizing serums that quench and nourish.

Brightening & Tightening: Loaded with antioxidants, peptides, and hyaluronic acid, our special blend not only brightens your complexion but also promotes skin elasticity and tightness.

Suitable for All Skin Types: Whether you have sensitive, oily, combination, or normal skin, the HydraFacial signature treatment is gentle enough to cater to all, ensuring a radiant finish without irritation.
Benefits:
Diminishes the appearance of fine lines and wrinkles.
Boosts overall skin health and resilience.
Promotes even skin tone and vibrancy.
Reduces enlarged pores and combats acne.
Provides a soothing, refreshing, and non-irritating experience.
How to Use:
For optimal results, it's recommended to undergo the Hydrafacial Signature Experience once every 4-6 weeks. Each session lasts approximately 30 minutes, ensuring that you can easily fit this pampering ritual into even the busiest schedules.
What's it going to do for me? 
Glowing, dewy, and radiant skin is no longer a luxury—it's your new normal. Experience a transformative skincare journey with the HydraFacial Signature and unveil a more confident, refreshed you!
Add the Murad® Clarifying Booster to target congested oily skin and post acne scars!
---