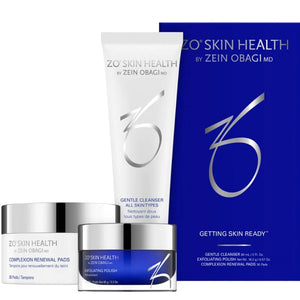 Step One: Gentle Cleanser (60 mL / 2 Fl. Oz.)
Gentle cleanser for all skin types designed to remove impurities and leave the skin feeling refreshed, clean and hydrated.
Step Two: Exfoliating Polish (16.2 g / 0.57 Oz.)
Ultra-fine magnesium crystals exfoliate dead skin cells for all skin types and increase epidermal turnover for a cleaner, smoother, more even-toned complexion.
Step Three: Complexion Renewal Pads (30 pads)
Moistened pads help minimize surface oil and exfoliate pore-clogging dead skin cells and dirt.
---